SPEND YOUR TIME MORE EFFECTIVELY WITH CLIENTS. WE'LL SHOW YOU HOW.
TRINLOGIX | VISUAL COMMUNICATIONS FOR FINANCIAL PROFESSIONALS
Enables financial professionals to better connect with clients.
Offers scalable solutions to meet all budgets and goals.
Designed for nimble innovators, who embrace new ideas, and actively communicate with clients.
.
Investment Advisors & Financial Planners
Clients rely on you to interpreting complex data for them in a way that is engaging and easy to understand.
People are visual learners and naturally gravitate towards imagery to better understand complex subject matter.
Every client presentation is about telling a story.  3-D visualizations helps to tell a story where Excel spreadsheets and PowerPoint fall short.
Mutual Fund Manufacturers & Wealth Advisors
We help mutual fund manufacturers spend time more effectively and drive credibility among clients. Trinlogix technology provides enhanced client experiences compared to traditional platforms.
As a wealth advisor, you know the importance of building strong client relationships that increase engagement and build wealth portfolios. Our financial technology helps you manage private wealth in the most efficient and clear way possible.
Product Features
Trinlogix offers an array of features to help you spend your time more effectively and drive credibility among your clients.

Trinlogix has the ability to fully integrate its tool into a website or other portal.

The software has the API carry out actions on its behalf using authorization tokens.

The database has unique users, which limit what data certain parts of the software can access.
Financial technology (FinTech) brings innovation to the delivery of financial services that provides a
better, clearer client experience compared to traditional, non-technological financial reporting methods.
We beat the glossy-eye syndrome and make life easier for financial professionals and their clients.
Learn More
Subscribe Today
WHAT OUR CLIENTS ARE SAYING
"It quickly highlighted my unique service"
"The cube answers my clients' questions visually."
"This puts me way ahead of the competition."
"I didn't expect to see the differentiation as clearly as I did using Trinlogix. It quickly highlighted the unique service I'm providing my client."
"This will save 20 minutes per meeting. That's easy money."
Jack S, Hedge Fund Analyst
"It's like putting a seatbelt on my practice."
Ready to give Trinlogix a try?
Request a Demo Today!
See our award-winning investment performance tools in action.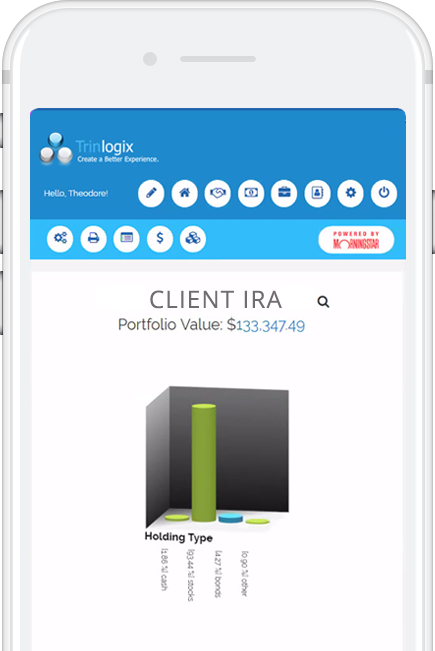 ©2018 Trinlogix  All rights reserved.
Various trademarks held by their respective owners.