What Does It Do For Me
Whether you're a financial planner, investment advisor, wealth advisor or mutual fund manufacturer, Trinlogix financial tools offer an array of features to help you spend your time more effectively and drive credibility among your clients.
Financial Advisor Software
Interactive and engaging presentations along with 3D visuals aid your ability to help clients understand their financials goals and growth. Simplified reports along with the ability to access financial reports anytime, anywhere make it easy and convenient for you and your client. Streamlined documentation allows every interaction to be tracked.
Fund Manager Software For Mutual Fund Manufacturers
Streamlined documentation automatically tracks all client interactions for compliance while custom branded white labeling provides a way to further differentiate from competitors. Simplified reports along with Interactive, engaging 3D presentations help you deepen client relationships.
REPORTING
Financial data can be complicated so we make reporting simple and engaging. Trinlogix financialplanning tools for advisors allow you to present reports and materials in a clear, concise and visuallyappealing manner that gets straight to the point and beats Glossy Eye Syndrome.
WHITE LABELING
In addition to our standard products, we offer rebranded white labeling options for sale by your company. White labeling removes the expensive and time-consuming process of creating custom solutions. White labeling is quick, easy and low-cost.
COMPLIANCE
Compliance is a necessary aspect of financial reporting. Think of compliance as preventative care for the health of your business. More documentation is better when it comes to compliance. Proper compliance can help you meet regulatory requirements and keep you out of trouble.
SPECIFICATIONS
Smart business starts with smart technology. Trinlogix investment performance tools for financial professionals provide smart solutions to assist you in serving your clients. Our technology provides an enhanced experience while aiding compliance amidst ever-changing rules and regulations.
Ready to give Trinlogix a try?
Request a Demo Today!
See our award-winning investment performance tools in action.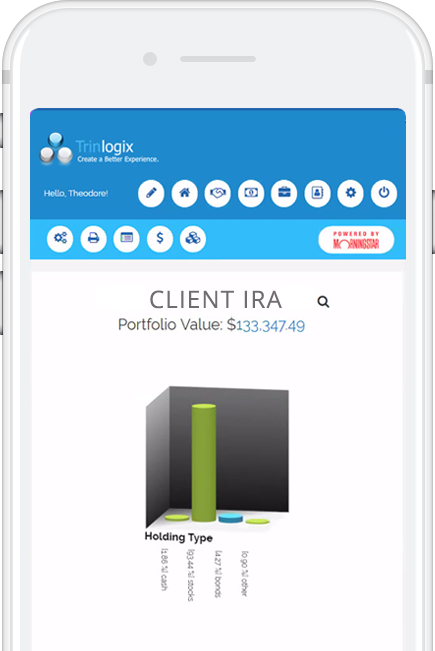 ©2018 Trinlogix  All rights reserved.
Various trademarks held by their respective owners.